About Dykes on Bikes Sydney
About Dykes on Bikes Sydney
We're Australia's longest-running female-identified motorcycle club, and one of the country's oldest LGBTQI+ community groups.
Interested in bikes, Mardi Gras or just want to expand your social network? Feel free to come along to one of our many events or send us an email.
Our members range from 18 to 80 years old, and we welcome any sized bike from a sporty scooter to a massive trike. P or L plate, or don't have a bike yet? We'd love to have you along.
Membership
You don't have to be a member of DOB Sydney to attend most of our events – but it helps! Financial members of DOB Sydney are entitled to a range of discounts from our Sponsors, as well as reduced price tickets to our own and kindred groups' events. DOB members are also invited to attend our members only camping trips, rides and weekends away.
You must be a Full Member to ride with us during the Mardi Gras Parade.
To read more about becoming a member, visit our Membership information page here.
Mardi Gras 
Want to ride with us at the start of the Mardi Gras Parade? Who wouldn't?! Dykes on Bikes Sydney have been riding in the Sydney Mardi Gras Parade since 1988. Imagine 200 bikes roaring, 300 sweaty, excited dykes and a crowd of thousands waiting to see you ride past!
"I can't believe I put off riding with you guys in the Parade for so long! That was the best Mardi Gras of my life!"
To read up on our Parade information or see what's happening during Mardi Gras just visit our Mardi Gras info page here
Events
Rides, parties, trivia nights, weekends away and even High Tea! DOB Sydney has something for everyone. Everyone is invited to our community events (like our Bike and Body Show and the Black and White Ball).  To see what we've been up to – or fun things coming up – just visit our Events page here.
You can also subscribe to our newsletter using the link at the bottom of this page.
Charity
Dykes on Bikes Sydney isn't all about riding and having fun, we have a serious side too. Every year we raise money from our events to donate to charities chosen by our members which help the LGBTQI+ community or other causes our members support. Our Charities for 2019-20 are B Miles Women's Foundation and Wires (Inner West Volunteers).
We also take part in events like The Pink Ribbon Ride, raising funds for Breast Cancer Research, and lots of members attend different Black Dog Rides for mental health.
Each December we do an annual Toy Run to the RSPCA in Yagoona donating much-needed food, medical supplies and toys towards their community programs assisting people with pets in relation to Aged Care, Domestic Violence and Homelessness.
Dykes on Bikes Sydney is proudly sponsored by:

The Sydney Mardi Gras Parade is normally held on the first weekend in March – and it wouldn't be the Mardi Gras Parade without the Dykes on Bikes leading it!
To view the current Mardi Gras guide, you can visit their page here.
Dykes on Bikes Events during Mardi Gras
The Mardi Gras season is also hectic for Dykes on Bikes! Our main events during the Mardi Gras season are normally:
Mardi Gras Fair Day – normally mid-February but check the guide or our Events page. You can meet the committee, check out some bikes and it's your last chance to register to ride in the Parade
Virgin Ride (Mardi Gras preparation ride) – check our Events page. This ride is mandatory for all new members or L/P plate riders
Meet and Greet – held on the Friday night before the Parade. We take over a local pub in the inner west for some refreshing beverages and the chance to meet some of the other riders
The Parade
The After Parade Party – We like to have our own Mardi Gras After Party so we will be taking over the whole of The Lady Hampshire Hotel in Camperdown the night of the parade.  Tickets will be available at a discounted rate with your membership renewal.
We also normally do smaller one-off events with Mardi Gras, so check out our Events page or sign up for our newsletter (link at the bottom of this page).
Registering to ride in Mardi Gras
First time riding with us during Mardi Gras? There are some important things you'll need to know.
You must be a Full Member of Dykes on Bikes to ride during the Parade (see Membership for more info)
Once our memberships have closed for the Parade (normally Fair Day), that's it. We do not take last minute applications (sorry).
If you want to take a pillion, they must be female-identified or gender-queer, over 18 years old and be a Pillion/Associate member
L and P plate riders can ride in the Parade with us (but you'll need to attend the Mardi Gras Preparation ride)
You must be able to do a slow speed U-turn
Scooters can ride in the Parade
Trikes can ride in the Parade
Outfits – wear anything you like! We will mind your helmets and safety gear during the Parade. We do encourage you to read this guide on appropriation vs. appreciation if your outfit is based on someone else's culture.
Colour groups – to make 200 bikes more manageable, we will assign you to a colour group to ride in during the Parade. If there's a particular colour group you'd like to be in, let us know when you apply for Membership.  Colour groups are assigned on a first-come, first-served basis.
You must be under the legal blood alcohol limit, as you will be breath tested by the NSW Police before riding. You may also be drug-tested.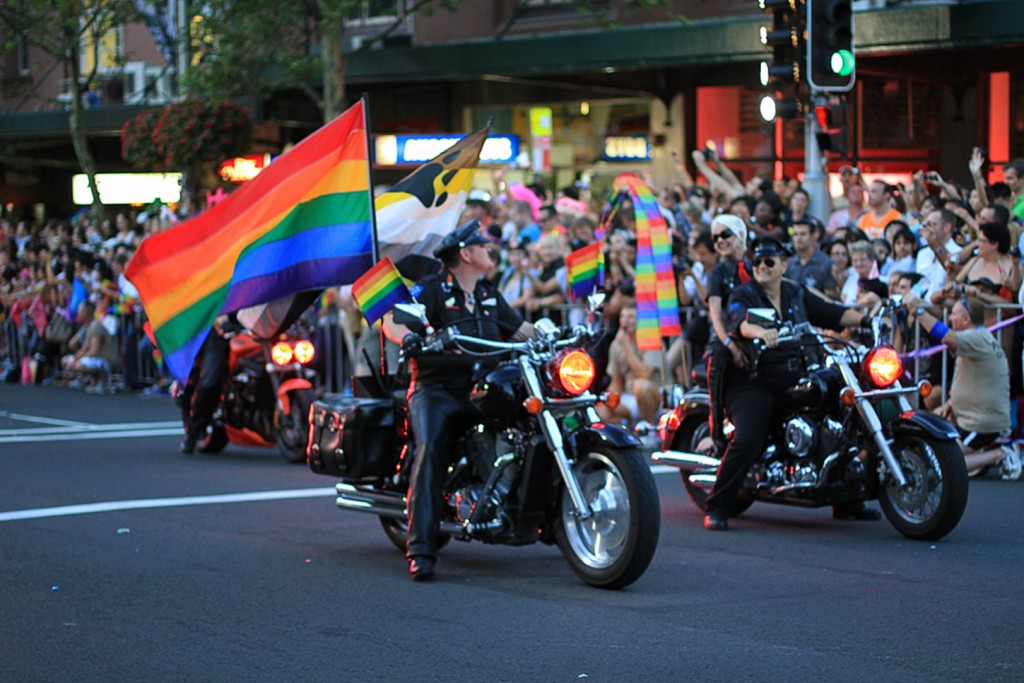 The details
Closer to Mardi Gras we will email all Riders and Pillions with detailed information about this year's Parade, as well as the Mardi Gras Parade Ride Rules. Everyone's safety (yours, other riders and Parade watchers) is our priority.
Arriving
Our meeting point is normally in front of the Sydney Cricket Ground in Moore Park, but can change depending on what's happening at the grounds – allow plenty of time to get there as roads can be blocked off.
You'll need to ride in near the Registration tent to sign in and get your 'rocket'
You'll be directed to your colour group – ride your bike over there and form up as directed by your group leader
Make sure you keep your licence on you at all times – even on the Parade route
Setting up your bike
What's a rocket? It's a pack with coloured headlight gels, wristbands, rainbow flags and storage bags.
Tape the gels to your headlights, and your flags wherever you like.
One wristband for you, one for your pillion and one for your storage bag
Get changed, place your gear in your storage bag – your group leader will show you where to place it
The route
About an hour beforehand, we normally line up in tight formation getting ready for the parade
Once this formation has happened you cannot leave the area except to use the bathroom
We drive slowly (about 10kms an hour) down Oxford Street, perform a slow U-turn on Wentworth Avenue and come back up Oxford Street.
Safety info
When you leave Moore Park, make sure you take your headlight gels off as they're not legal for normal use
Follow any directions given to you by your group leader or a Dykes on Bikes official
If you're unsure of anything, just check with the Registration desk on the day
The End
You cannot leave your bike at the end area as it will be towed and fined however you can park it at EQ or the surrounding side streets if you want to stay.
Head back to the hotel to continue partying the evening away and telling everyone how fabulous they looked and how much fun you had.
Be sure to read our current Mardi Gras Parade Ride Rules.
We have Dykes on Bikes merch for all your Ride with Pride needs!
Click here to get in contact with us to chat about the latest designs available – the limited edition ranges of merch changes from year to year.
We currently have a range of t-shirts (check out some designs below), trucker caps, stubby holders, tea-towels (DOB are well represented at CWA meetings all around Australia) and tote bags as well as patches, badges and key rings.