Events
Upcoming Events
21/9/2019  –  Annual Black & White Ball – Leather and Lipstick
Dykes On Bikes – Sydney presents the annual Black & White Ball
DATE: Saturday 21st September 2019
THEME: Leather & Lipstick.
LOCATION: Red Rattler, Faversham St, Marrickville.
TIME: 7pm-2am
••• DJ RUBY RED + DJ ESTÉE LOUDER! •••
Expect some great music, fantastic entertainment and a great night out.
We have a live all girl band, Which Witch, pumping out the classics to get the party started. Our two DJ's for the night are Ruby Red and Estee Louder so make sure you're wearing your dancing shoes.
We'll be having special guests throughout the evening to keep you entertained. Keep your eyes open to see who's on as they are confirmed.
Dress to impress. There will be prizes for the Best Dressed Leather, Best Dressed Lipstick, Best Dressed Couple and Belle of the Ball
Early Bird tickets can be purchased from Sticky Tickets.
Early Bird Ticket: $30.00
Member & Kindred Early Bird Ticket: $25.00

2018 has been a great year for us.  Of course it is brilliant that we reached our 30th Birthday but we also had an amazing turnout for the Mardi Gras Parade, one of the best Mardi Gras After Parties I've been to in years and a fantastic night at the Black & White Ball.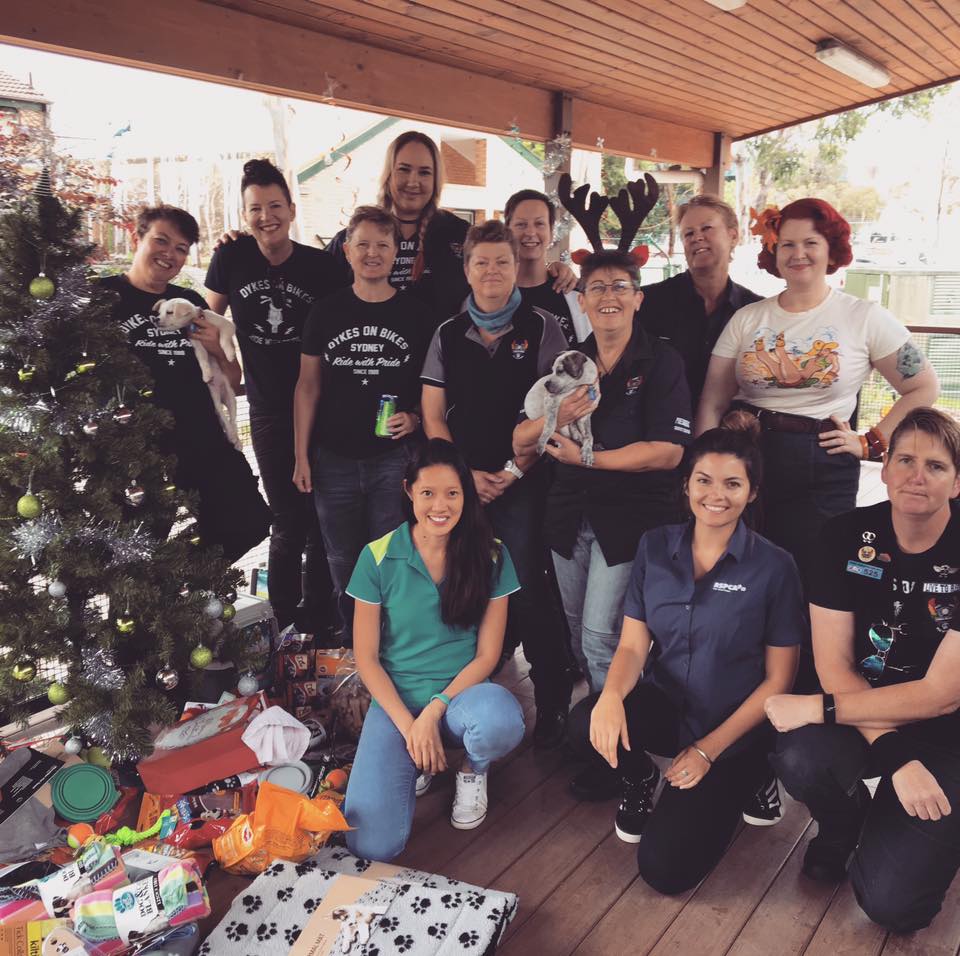 We have the RSPCA and X-Mas Party coming up in December and then the return of the Big Dykey Picnic in January.  February will be full of things leading up to Mardi Gras and, of course, part II of the DOB After Party at the (Lady) Hampshire.  The Bike & Tattoo Show has morphed into the Bike & Body Show to be held on Saturday 30th March.  We have gone into partnership with ACON's Women's Health Project (hence the Body) so apart from the Bike Competition and a Swap Meet we will be looking at looking after not only your bike but your Body.
There are rides scheduled for every month – some long and some short – to make sure you have a reason to get out on your bike.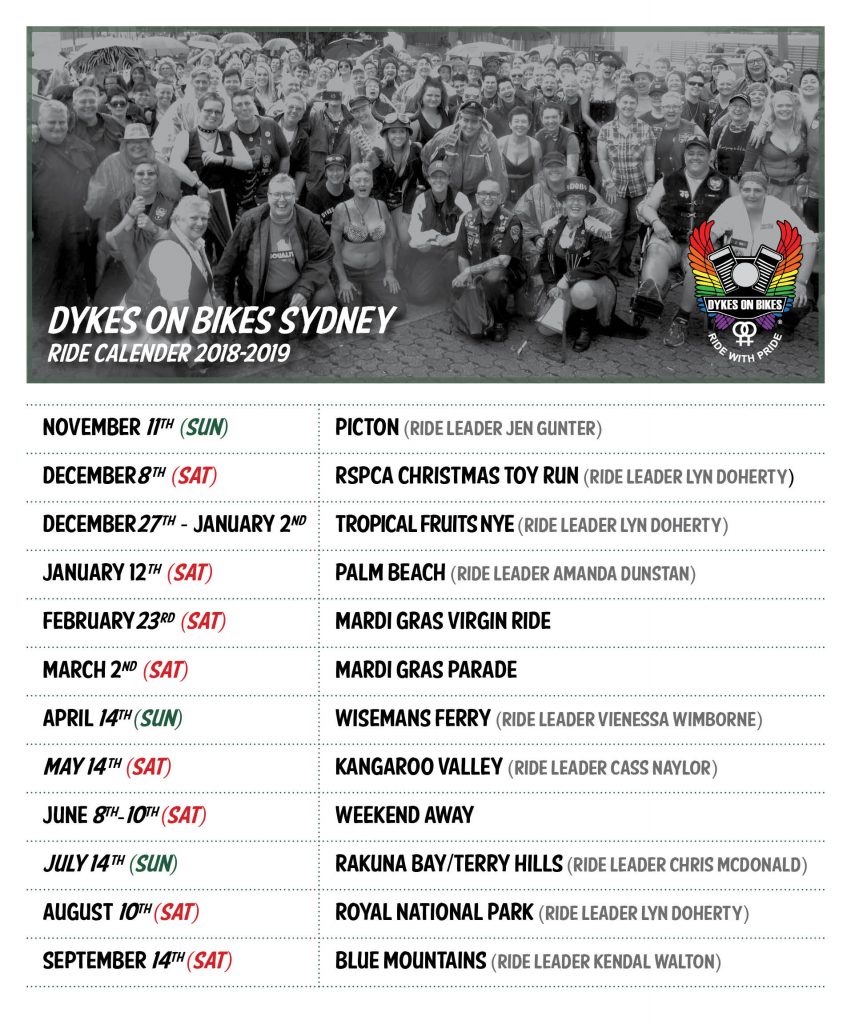 Yes we know it's the start of Winter for the weekend away but if it goes as planned you will not want to miss this one.  (Details to be confirmed but Head Like a Chicken)
Or if you aren't riding or just want to catch up, why not come along to one of our social events and meet the crew. More details are always posted on Facebook here.
The Xmas Party and General Meeting are on !6th December, the Big Dykey Picnic on January 28th, Fair Day is on 17th February and the Virgin Ride on 24th, Meet'n'Greet on 1st March, Parade and After-Party on 2nd and Bike & Body Show on 30th.  Looks like another fun filled year for us.
Long to join us at a Dykes on Bikes event? Subscribe to our newsletter or follow us on Facebook!