Events
2019 October Ride:
It's on again! The 19th Annual Pink Ribbon Motorcycle Ride in Sydney!
DATE: Sunday 20th October 2019
TIME: 9am – 4pm
DONATE to our EVERYDAY HERO PAGE
(Donations via everyday hero $2 and over are tax-deductible)
As this event continues to grow we invite you to join us on on the 20th of October, 2019 as we once again support Pink Ribbon Ride.
The event is proudly supported by the Ettamogah Hotel in Kellyville Ridge.
Feel free to share this event with your family and friends and help make a big difference in the fight against Breast Cancer.
For everything you need to know, visit the Pink Ribbon website.
___________________________________________________
ABOUT THE EVENT
Our event raises money for BCI in a few different ways:
✧ Most importantly attendees are encouraged to Register! There are 3 categories; Rider, Pillion and Non-Rider/Participant.
✧ Supporters are encouraged to get family and friends to sponsor them for the event (prizes awarded on the day for 'highest sponsored' in various categories).
✧ Major Raffle every year; this year to celebrate 19 years of successful support and fundraising our Major Raffle prize is valued at $2000 for just $2 per ticket!
Major Draw Prize:
$2,000 Helloworld Travel Mt Ommaney Voucher*.
2nd Prize:
2 x $500 Custom MasterCard ($1000 value)
3rd Prize:
1 x $200 Custom MasterCard
✧ You don't have to ride to join in either. Supporters are encouraged to register as a Non-Rider/ Participant, come along on the day dressed in PINK! , join in the festivities on the day including special events, live entertainment, jumping castles and face painting for the kids and most importantly – support a great cause!
✧ As a bonus for our supporters, we hope to give away over $10,000** worth of prizes with categories including Best Dressed Bike, Trike, Scooter, Man, Woman, Couple, Highest Sponsored, Youngest Pillion, Trivia Quiz + more!!!
**You MUST be in attendance at our 2 pm Presentation to be awarded a prize (excluding Major Raffle Draw).
And, of course, we rely on generous donations!!!
This year the suggested ride route will take participants into the Blue Mountains to Bilpin Fruit Bowl for our checkpoint – returning to the Ettamogah for the 2 pm Presentation.
We look forward to seeing you in PINK at the Ettamogah on the 20th of October 2019!
Facebook Pink Ribbon Ride Event Page
2019/2020 Ride Calendar Coming Soon
2018 Hightlights

2018 has been a great year for us.  Of course, it is brilliant that we reached our 30th Birthday but we also had an amazing turnout for the Mardi Gras Parade, one of the best Mardi Gras After Parties I've been to in years and a fantastic night at the Black & White Ball.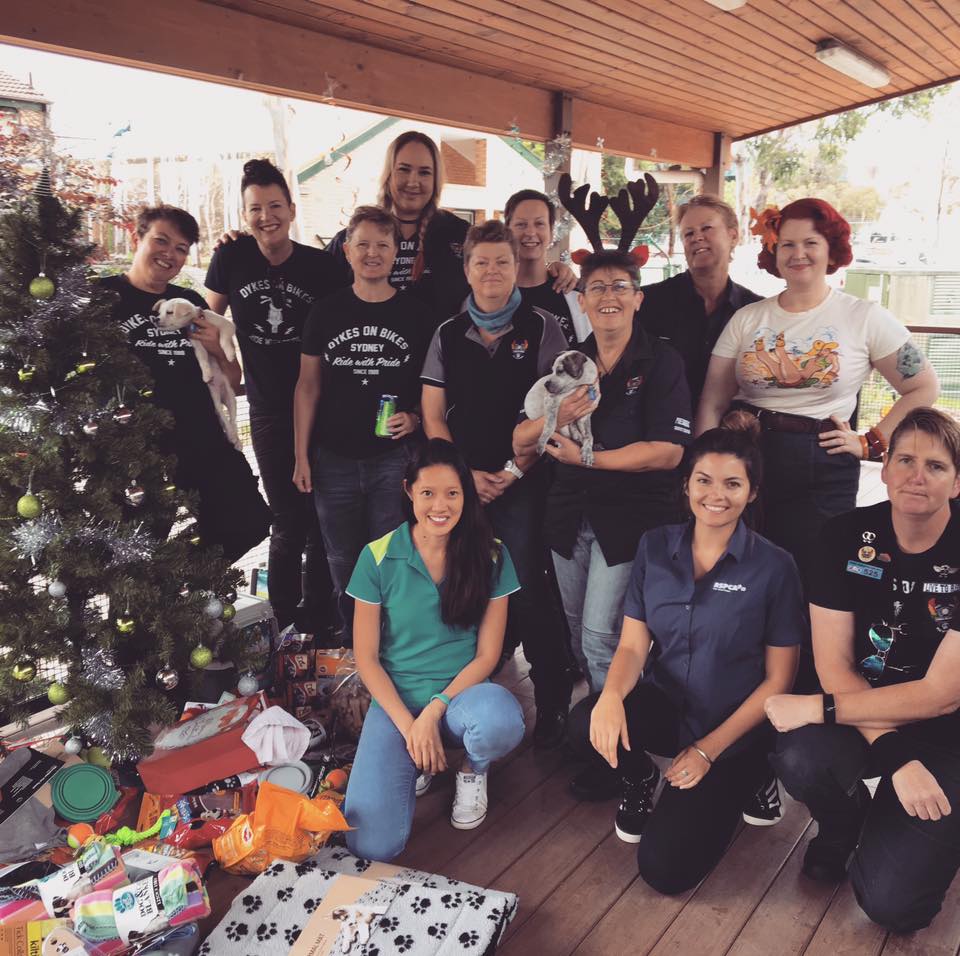 We have the RSPCA and X-Mas Party coming up in December and then the return of the Big Dykey Picnic in January.  February will be full of things leading up to Mardi Gras and, of course, part II of the DOB After Party at the (Lady) Hampshire.  The Bike & Tattoo Show has morphed into the Bike & Body Show to be held on Saturday 30th March.  We have gone into partnership with ACON's Women's Health Project (hence the Body) so apart from the Bike Competition and a Swap Meet we will be looking at looking after not only your bike but your Body.
There are rides scheduled for every month – some long and some short – to make sure you have a reason to get out on your bike.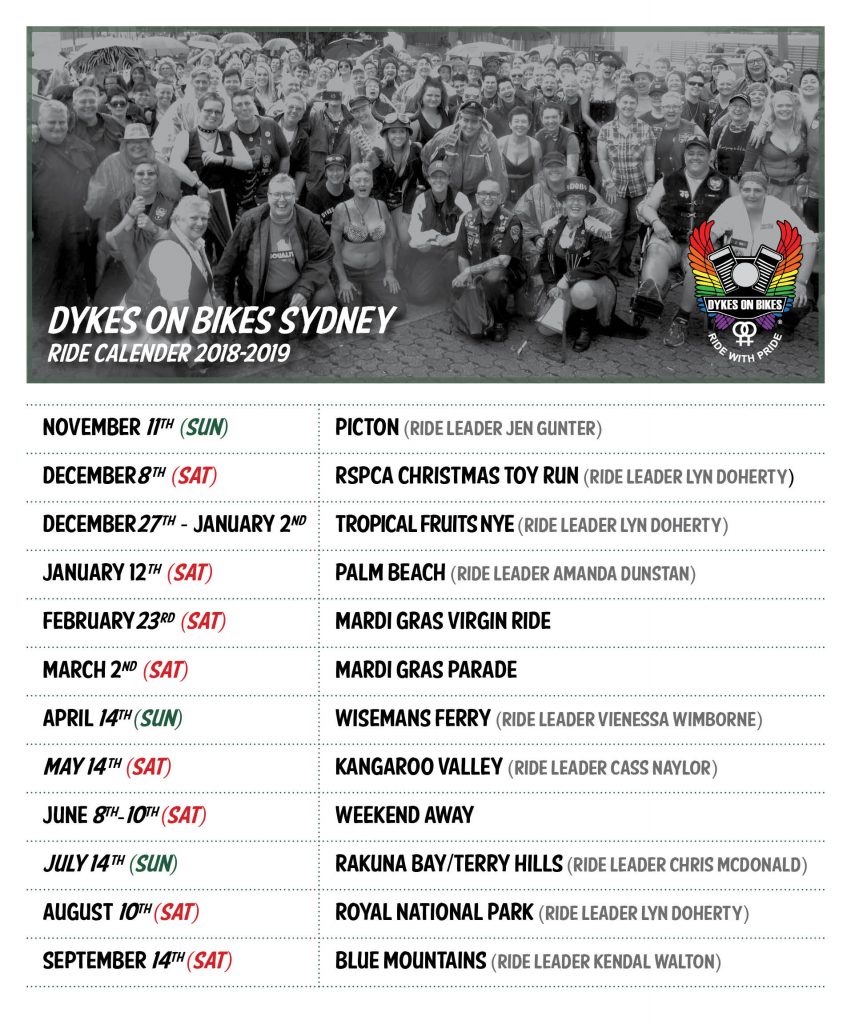 Yes we know it's the start of Winter for the weekend away but if it goes as planned you will not want to miss this one.  (Details to be confirmed but Head Like a Chicken)
Or if you aren't riding or just want to catch up, why not come along to one of our social events and meet the crew. More details are always posted on Facebook here.
The Xmas Party and General Meeting are on !6th December, the Big Dykey Picnic on January 28th, Fair Day is on 17th February and the Virgin Ride on 24th, Meet'n'Greet on 1st March, Parade and After-Party on 2nd and Bike & Body Show on 30th.  Looks like another fun filled year for us.
Long to join us at a Dykes on Bikes event? Subscribe to our newsletter or follow us on Facebook!